Imessage is an app created for the iPhones by apple. It is an app where all the apple users can use to have chat and conversation. It is just not a normal chatting app it provides a lot of unique features which is available for the iPhone users. It can run on iPhone, iPad, Mac. Users can create conversation groups, can leave or mute the conversations, users can block phone numbers and contacts anytime. Imessages have inbuilt memojis and gift which is quite a unique feature seen. New updates always give new features added to it. One can share the file, photos, music, MMS, etc via iMessages. Users can create personal touch Express yourself with bubble, full-screen, and camera effects. Memoji's can be made and customized as well. Users can also question with the community and can get help instantly.
If iMessage is not working as usual at this time or maybe it's down permanently then here are some of the best alternatives to iMessage which you will surely enjoy.
So, We have got your back! if you want to try some other Apps, Programs like iMessage then here are some of the best iMessage alternatives that you should try:
---
Best Alternatives To iMessage
---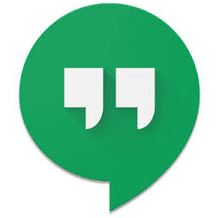 Hangout is an app that is created by Google. It is free for users. Hangouts help in sending messages, files, videos to friends and colleagues. It also has a special feature in which one can do video conferencing with their friends, family and also with office colleagues. It allows up to 10 people in a single video conferencing at a time. It also allows the user to do the group conversations. Users can send video, audio messages anytime anywhere. One can synchronize their data and can access multiple devices as well. It can be used for business purposes as well. It also provides various G-Suit plans according to the need of the user. It has basically three payable plans: basic plan, business plan, enterprise plan. It is an all in one app where user can access and use calendar, drive, docs, sheet, slides, etc.
Alternative Details

---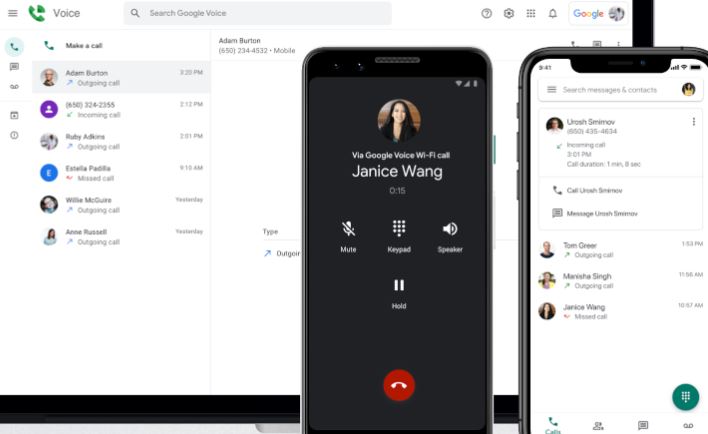 Google voice is an application that can be accessed from different devices like smartphones, laptops or computers, etc. for accessing telephone services. It enables users to establish communication through the internet and access all the various different features like voice mail, call forwarding, etc. It is very much efficient and creates a great environment where two or more people can communicate with one another. It is available in different countries and is majorly used in the US. It is quite popular and is considered as one of the best phone system application for your different devices. It is also integrated with Gmail. Thus, enabling various users to contact people who are on your Gmail via the Google voice application service. It works completely as a phone communication system. You can do all the things that normal phone service does. It includes one of the best services and customer support for providing better assistance to users.
Alternative Details

---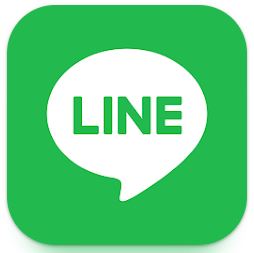 Line (styled as LINE) is a freeware app for instant communications on electronic devices such as smartphones, tablet computers, and personal computers. Line users exchange texts, images, video, and audio, and conduct free VoIP conversations and video conferences. In addition, Line is a platform providing various services including digital wallet as Line Pay, news stream as Line Today, video on demand as Line TV, and digital comic distribution as Line Manga and Line Webtoon. The service is operated by Line Corporation, a subsidiary of a Korean internet search engine company, Naver Corporation. As LINE became a huge success, finally NAVER combined NAVER Talk and LINE in March 2012. They changed NAVER's Japanese branch name from NHN JAPAN to LINE Corporation. LINE reached 100 million users within eighteen months and 200 million users only six months later. The line was originally developed as a mobile application for Android and iOS smartphones. The service has since expanded to BlackBerry OS (August 2012), Nokia Asha (Asia and Oceania, March 2013), Windows Phone (July 2013), Firefox OS (February 2014), iOS tablets (October 2014), and as a Chrome Browser Application (via the Chrome Web Store). At one point, Line was available as a website (non-browser-app), but it has since been discontinued. The application also exists in versions for laptop and desktop computers using the Microsoft Windows and macOS platforms.
Alternative Details

---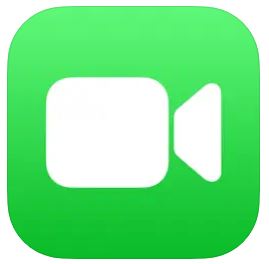 FaceTime is a proprietary videotelephony product developed by Apple Inc. FaceTime is available on supported iOS mobile devices and Macintosh computers that run Mac OS X 10.6.6 and later. FaceTime supports any iOS device with a forward-facing camera and any Macintosh computer equipped with a FaceTime Camera. FaceTime Audio, an audio-only version, is available on any iOS device that supports iOS 7 or newer, and any Macintosh with a forward-facing camera running Mac OS X 10.9.2 and later. FaceTime is included for free in iOS and in macOS from Mac OS X Lion (10.7) onwards.
Alternative Details

---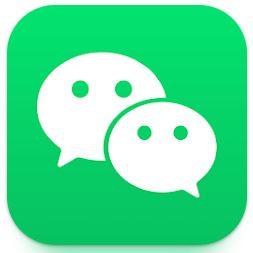 We chat is a Chinese multi-purpose messaging, social media and mobile payment app developed by Tencent. It was first released in 2011 and became one of the world's largest standalone mobile apps in 2018, with over 1 billion monthly active users. WeChat provides text messaging, hold-to-talk voice messaging, broadcast (one-to-many) messaging, video calls and conferencing, video games, photograph and video sharing, as well as location sharing. WeChat also allows users to exchange contacts with people nearby via Bluetooth, as well as providing various features for contacting people at random if desired (if people are open to it). It can also integrate with other social networking services such as Facebook and Tencent QQ. Photographs may also be embellished with filters and captions, and automatic translation service is available. WeChat supports different instant messaging methods, including text message, voice message, walkie talkie, and stickers. Users can send previously saved or live pictures and videos, profiles of other users, coupons, lucky money packages, or current GPS locations with friends either individually or in a group chat. WeChat's character stickers, such as Tuzki, resemble and compete with those of LINE, a Korean messaging application.
Alternative Details

---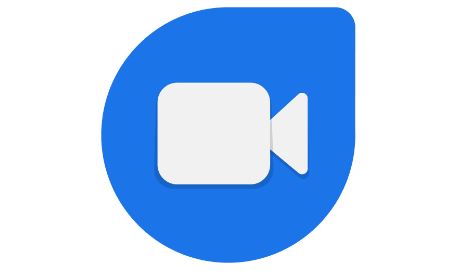 Google Duo is a video chat mobile app developed by Google, available on the Android and iOS operating systems. It was announced at Google's developer conference on May 18, 2016, and began its worldwide release on August 16, 2016. It is also available to use via Google's Chrome web browser on desktop and laptop computers. Google Duo lets users make video calls in high definition. It is optimized for low-bandwidth networks. End-to-end encryption is enabled by default. The duo is based on phone numbers, allowing users to call someone from their contact list. The app automatically switches between Wi-Fi and cellular networks. A "Knock Knock" feature lets users see a live preview of the caller before answering. An update in April 2017 lets users worldwide make audio-only calls. In an email sent to Android phone manufacturers on October 5, 2016, Google announced that starting December 1, 2016, Google Duo replaced Hangouts within the suite of Google apps Android phone makers must pre-install on devices, with Hangouts instead becoming an optional app for phone makers. The duo is based on phone numbers, allowing users to call people from their contact list. The app automatically switches between Wi-Fi and cellular networks. For packet loss concealment Duo uses WaveNetEQ, a generative model based on DeepMind/Google AI's WaveRNN.
Alternative Details

---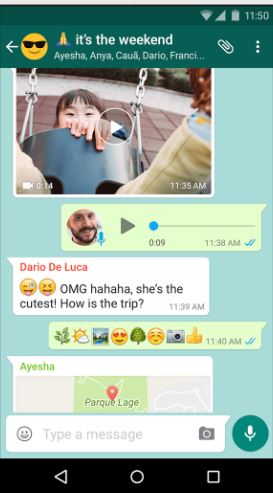 Whatsapp is a messaging app which can be downloaded on mobile phone, iPads, desktops and many other devices as well. It can run on any of the operating systems like Windows, Mac, etc. In addition to just the normal messaging one can send unlimited messages, can create groups, and can send unlimited files, videos and any sort of data. Users find it very convenient and useful to have all the useful features in one app. A data synchronization option is also available. It provides end to end encryption policy for the privacy and protection of the user's data. Users can also pin the app over their screen and choose and go for many options like push notifications, wallpaper of the screen, who all can see their profile picture and status. Users can also broadcast a specific message just to a limited number of people as well. It also gives the latest feature and which can be updated from time to time.
Alternative Details

---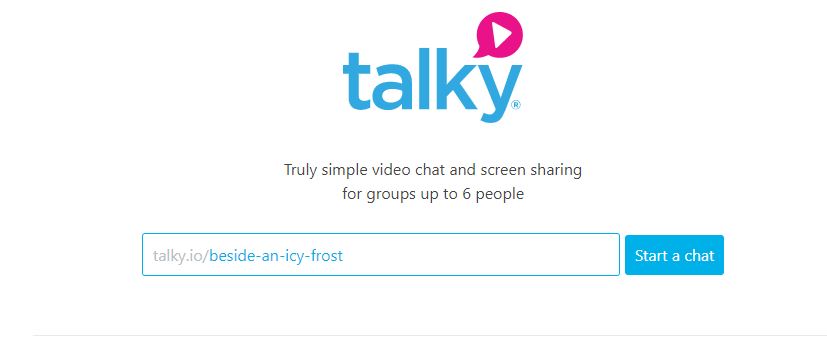 Talky is a simple way to get connected to your friends and family and can talk and chat. Rather than using the personal account, it uses unique URL's which can be shared just with those with whom the user wanted to
Alternative Details

---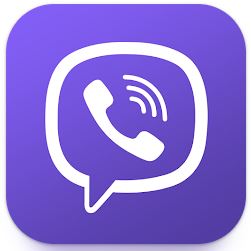 Viber is a free app that allows the user to send free messages and can have video calls as well. Viber can be installed on a mobile phone as well as on the desktop. Viber Out can be used to make calls to non-Viber landlines and mobile numbers at low rates. Viber is available for many smartphones and platforms. Some of the amazing features of Viber areas: Text with your friends Make free phone and video calls with HD sound quality, Share photos, videos, voice messages, locations, stickers, and emoticons, Create gGroups messages with up to 100 participants, Follow Public Chats - get on the inside with your favorite celebs, brands, and personalities; watch their conversations unfold in real-time, 'like' comments and share multi-media content, Download stickers from the Sticker Market to make messaging fun, Push notifications guarantee that you never miss a call or message, even when Viber is off, Support for the Viber Desktop application on Windows, Mac, Linux and Windows 10.
Alternative Details

---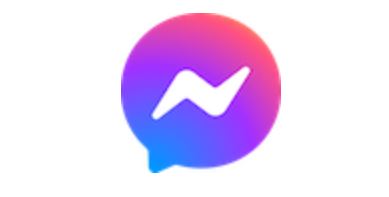 Facebook Messenger (commonly known as Messenger) is an American messaging app and platform developed by Facebook, Inc. It is Originally developed as Facebook Chat in 2008, the company revamped its messaging service in 2010, and subsequently released standalone iOS and Android apps in August 2011 and standalone Facebook Portal hardware for Messenger-based calling in Q4 2018. Later on, Facebook has launched a dedicated website interface (Messenger.com), and separated the messaging functionality from the main Facebook app, allowing users to use the web interface or download one of the standalone apps. In April 2020, Facebook officially released Messenger for Desktop, which is supported on Windows 10 and macOS and distributed on Microsoft Store and App Store respectively. Users can send messages and exchange photos, videos, stickers, audio, and files, as well as react to other users' messages and interact with bots. The service also supports voice and video calling. The standalone apps support using multiple accounts, conversations with optional end-to-end encryption, and playing games. It gives some features like chat heads, it provides direct messaging as well, userS can sign up without a Facebook account, it also provides SMS support, users can also create multiple apps, it also provides various augmented reality features according to the need of the users.
Alternative Details

---