Revo Uninstaller is a lightweight uninstaller for Windows that serves as an alternative to the standard Windows uninstaller. What distinguishes it from the default is that this little tool is completely capable of removing all types of files, even those found in the registry, where remains may occasionally be found. It comes in three flavors: Revo Uninstaller Free, Revo Uninstaller Pro, and Revo Uninstaller Portable. All of these versions' core features and functionality are primarily the same. This program provides more powerful scanning techniques as well as a more thorough search for leftovers.
If Revo Uninstaller is not working as usual at this time or maybe it's down permanently then here are some of the best alternatives to Revo Uninstaller which you will surely enjoy.
So, We have got your back! if you want to try some other [category] like Revo Uninstaller then here are some of the best Revo Uninstaller alternatives that you should try:
---
Best Alternatives To Revo Uninstaller
---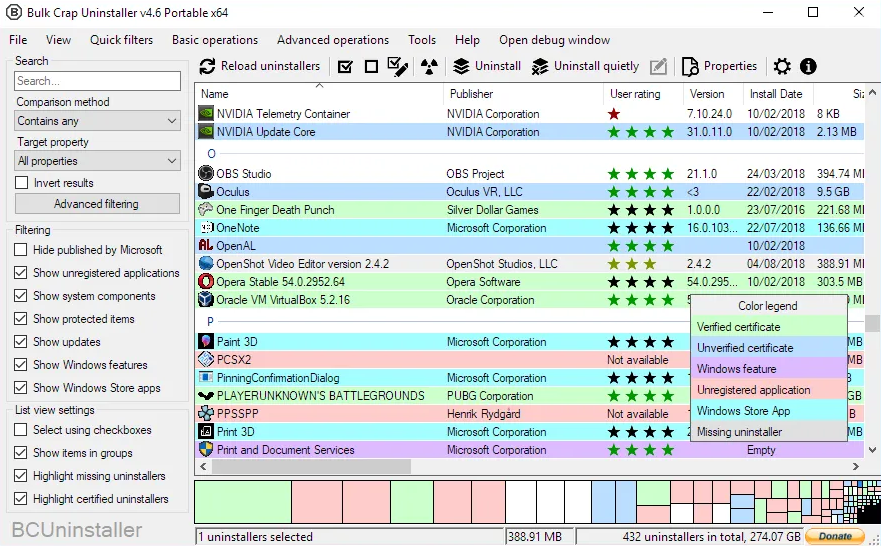 Bulk Crap Uninstaller is a sophisticated software application that allows users to uninstall several apps from their Windows computers at once. It is a portable application that is simple to use and has a variety of capabilities. Unwanted programs, toolbars, browser extensions, and Windows Store...
Check Alternatives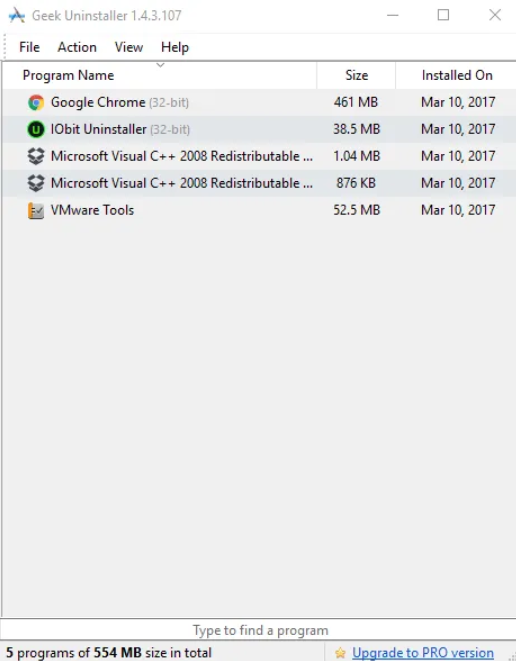 GeekUninstaller is a robust software utility that allows users to swiftly and simply remove unwanted programs and software from their PCs. Also, its intuitive and basic interface makes it simple to detect and uninstall unwanted files and programs, freeing up important hard drive space on...
Check Alternatives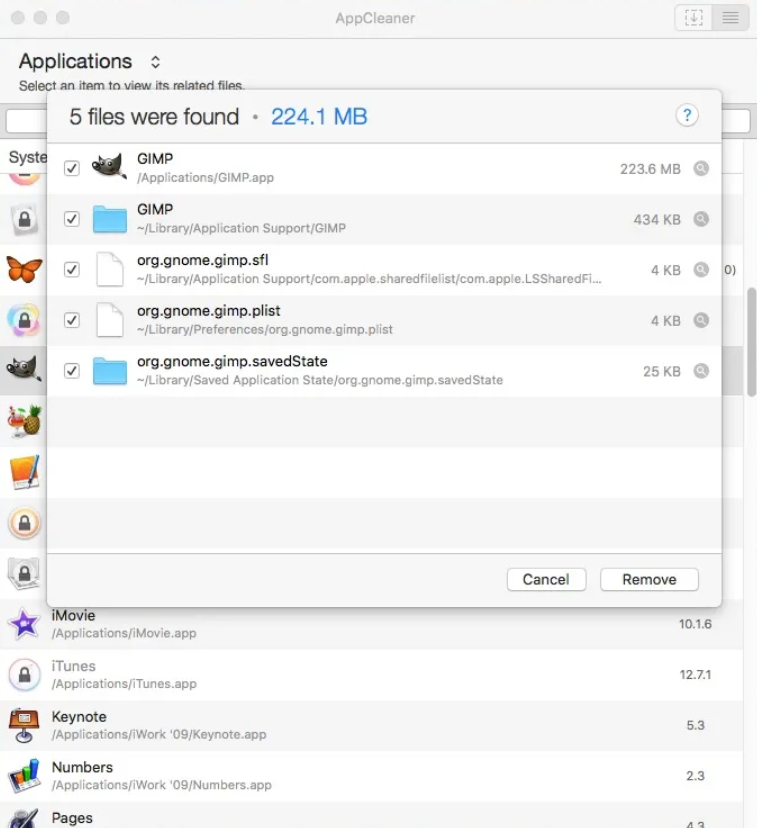 AppCleaner  is a sophisticated software solution for removing unwanted apps and data from Mac computers. The software has a sleek and minimalistic layout that allows users to quickly and simply discover and eliminate undesirable files and apps. Users can effortlessly uninstall apps, clear leftover data,...
Check Alternatives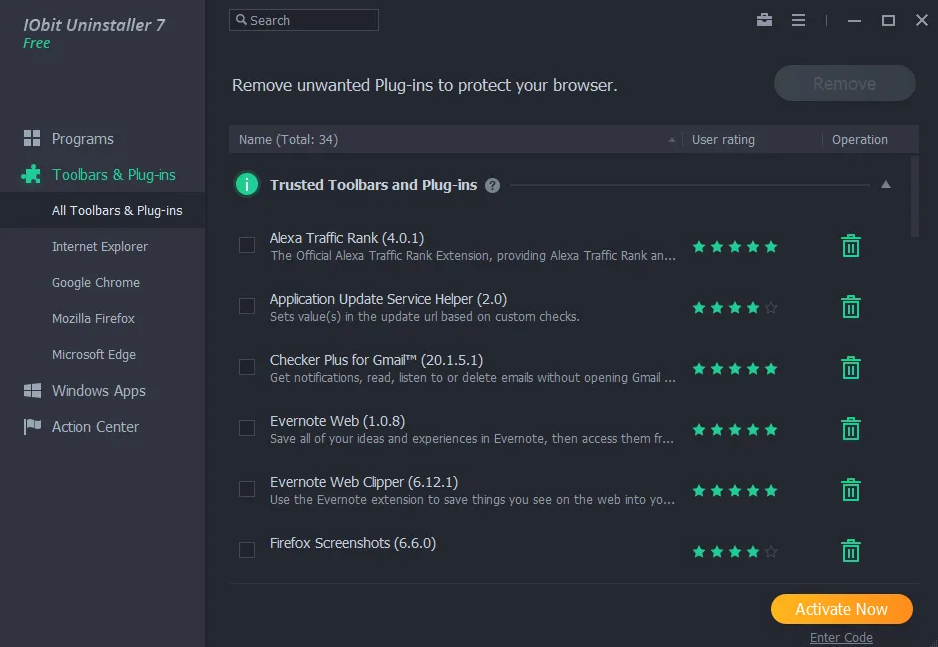 IObit Uninstaller is a program that will assist you in uninstalling undesirable programs and removing any residual files or registry entries that may have been left behind. Users can use IObit Uninstaller in a variety of ways, including a regular uninstall mode, a forced uninstall...
Check Alternatives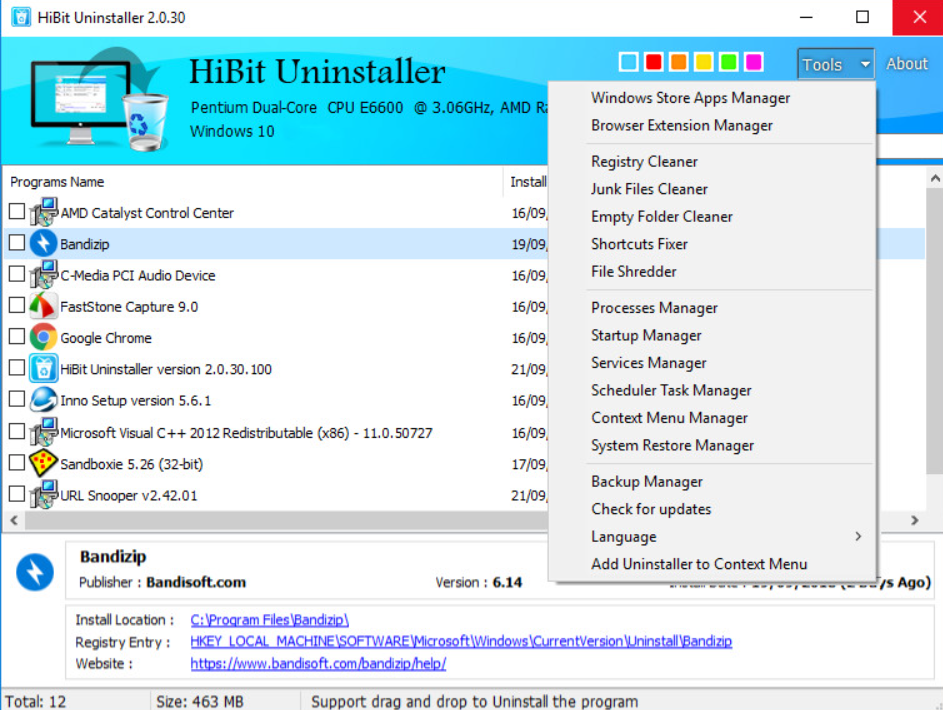 HiBit Uninstaller is a free software application that helps users to uninstall undesirable programs, drivers, and Windows apps from their PCs swiftly and easily. HiBit Uninstaller allows users to thoroughly delete undesirable programs, including any remaining files, directories, and registry entries that may be left...
Check Alternatives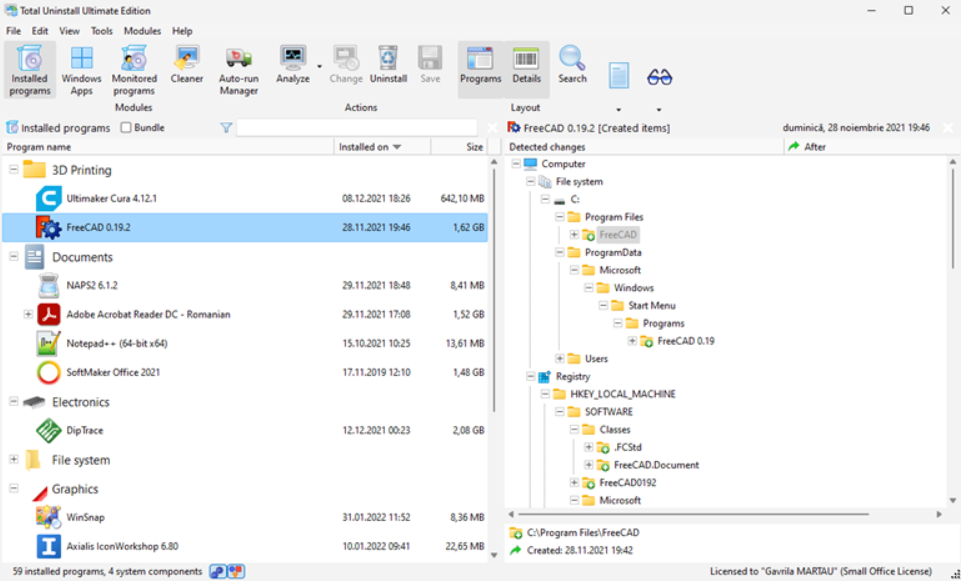 Total Uninstall is a comprehensive software utility designed to thoroughly uninstall programs from your computer while leaving no traces behind. With Total Uninstall, you can effortlessly remove applications, including their associated files, folders, and registry entries, ensuring a clean and complete uninstallation process. Total Uninstall...
Check Alternatives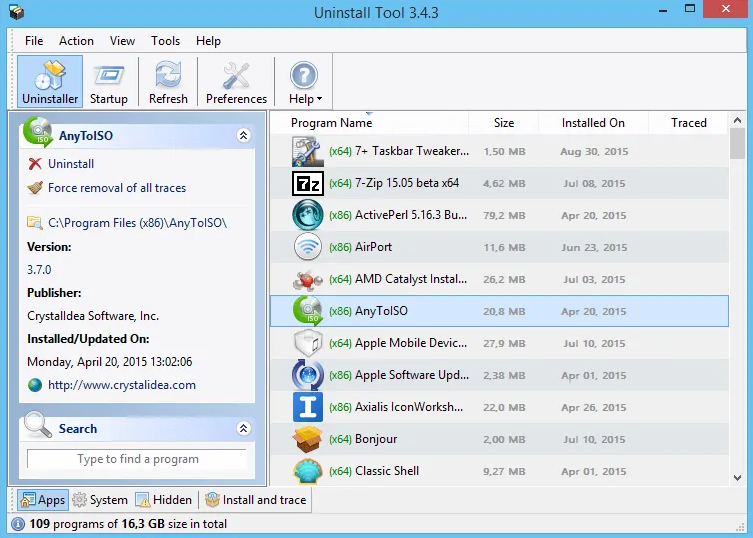 Uninstall Tool is a powerful software removal utility that helps you effectively uninstall programs from your computer, ensuring a clean and efficient system. With Uninstall Tool, you can easily remove unwanted applications, plugins, toolbars, and stubborn software that may be causing performance issues or taking...
Check Alternatives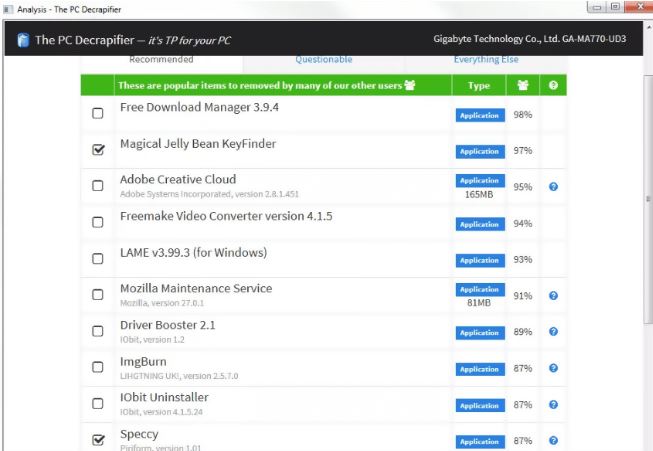 PC Decrapifier is a straightforward and easy to use uninstaller. The nicest part about PC Decrapifier is that it provides its customers with a step-by-step cleaning procedure. After the procedure, it proposes the removal of any files that have not been eliminated or that have...
Check Alternatives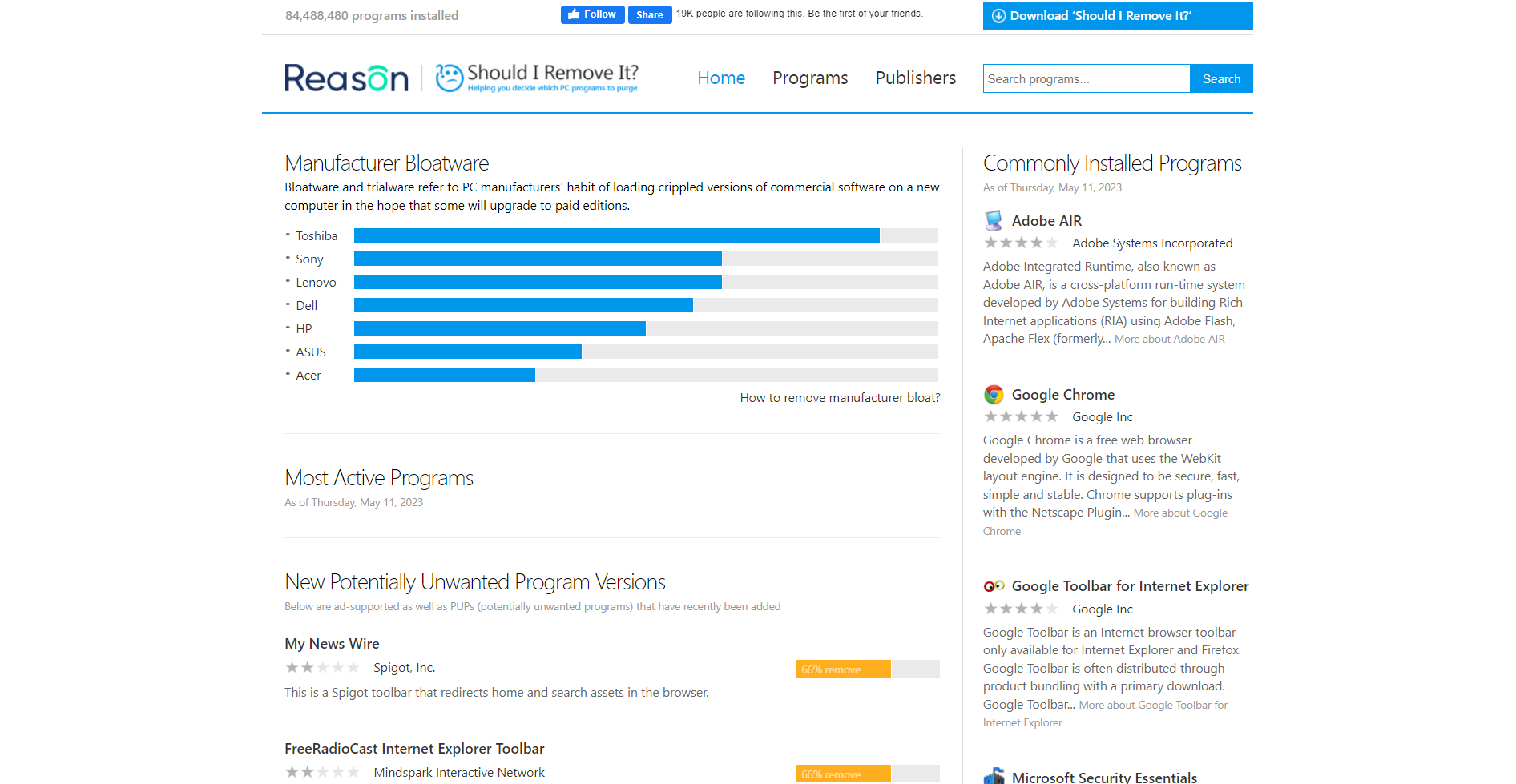 Should I Remove It? is a free Windows utility software that helps users identify and remove unwanted programs and applications from their computers. The software utilizes a powerful algorithm that analyzes the installed programs and their usage statistics to provide users with a list of...
Check Alternatives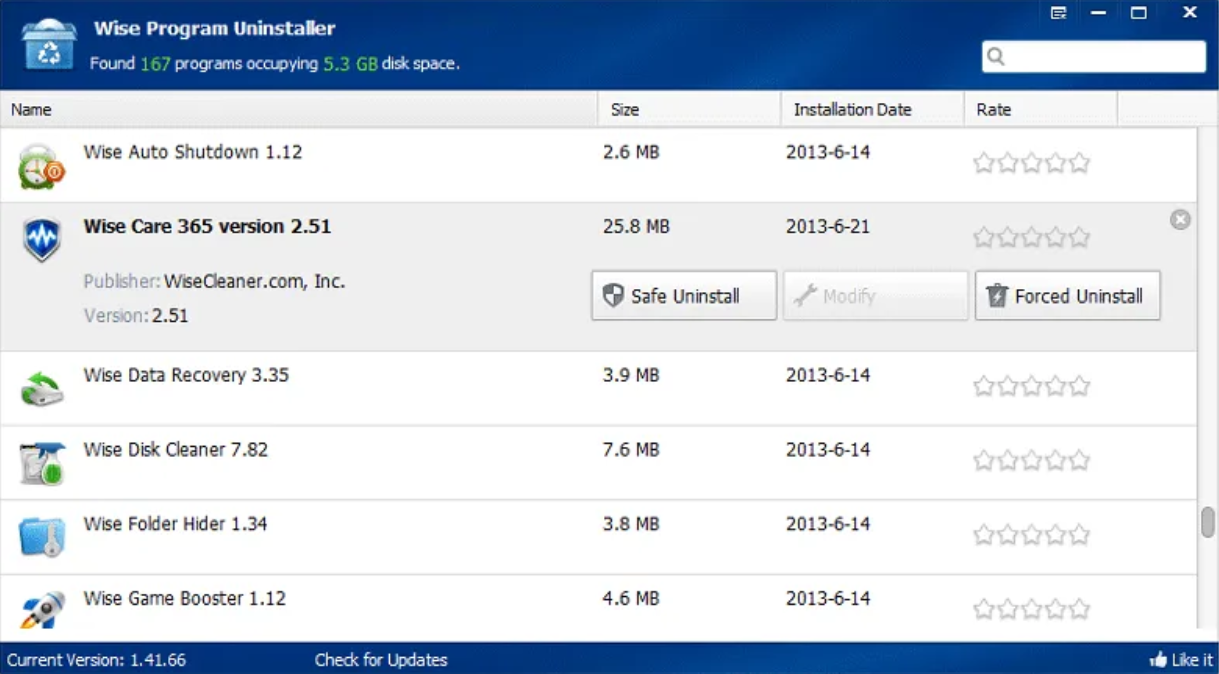 Wise Program Uninstaller is a comprehensive software removal tool that helps you uninstall unwanted programs from your Windows computer quickly and effectively. With Wise Program Uninstaller, you can easily remove stubborn applications, browser extensions, and bundled software that is no longer needed or causing issues....
Check Alternatives