Steady helps the publishers to convert their readers and viewers into their paying supporters. It helps the artists to earn money with their skills and postings.
The publishers can ask their pre-existing community to help them or they can also penetrate to the readers via social media sites/ publishers can also know the pre-existing strategies which publishers are already using. After doing so, the publisher can set up their own project. Once attaining that the publisher is now ready to hit the community and make their publications hit the world full of readers and can increase their readers and viewers and can earn from that. The platform charges only once (from the first donation) rest is earned by the publisher. The publisher has full ownership of their content and provides full control of the projects.
If Steady is not working as usual at this time or maybe it's down permanently then here are some of the best alternatives to Steady which you will surely enjoy.
So, We have got your back! if you want to try some other Sites like Steady then here are some of the best Steady alternatives that you should try:
---
Best Alternatives To Steady
---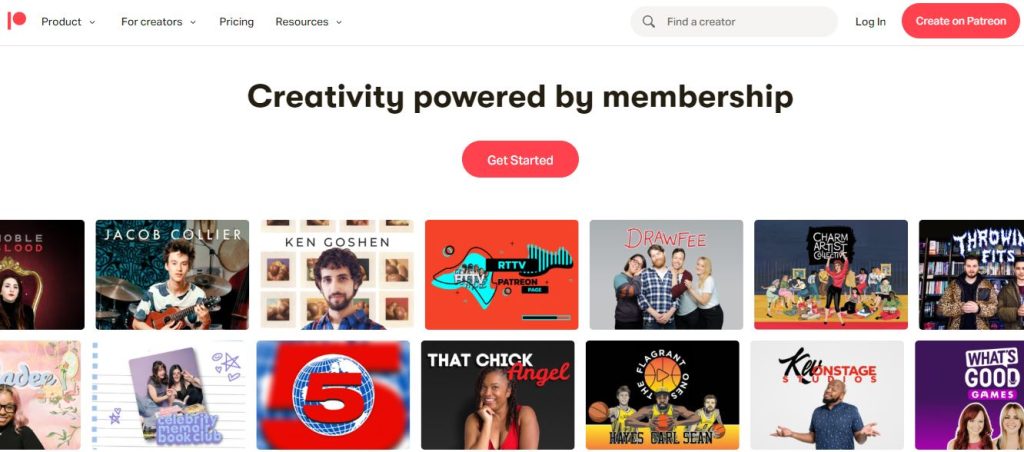 Patreon helps the users build a direct relationship with the fans. Patreon offers benefits like the subscriber can offer the content, community or insight of the creativity and in return or in exchange they get the monthly subscriptions. It helps the creative artist to be in an ad-free and troll-free environment. It provides creative control to the artist, they can create what people love. It also provides a reliable income from the work, who gives the artist a monthly subscription. There a quite people who have different backgrounds who all use Patreon some of them are podcasters, video editors, gaming creators, writers, visual artists, musicians, etc. There are more than 150000 + users of the Patreon, who are changing the way their art is valued.
Alternative Details

---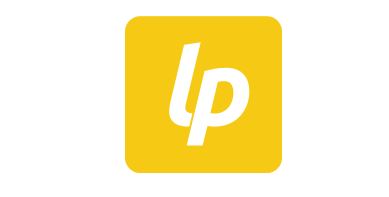 Liberapay is a site where one can donate to the people whose work they like and appreciate. Liberapay's recurrent donations system is designed to provide a stable crowdfunded basic income to creators, enabling them to keep doing great work that benefits everyone. Liberapay is different from other platforms as it is only for the donation purpose, which means it is not based on contract-based nor a promise of recompense. Liberapay is a open-sourced structured around a non-profit organization. It is a neutral platform over which the users can create an account and can use it without approval. Liberapay services support multiple currencies and are translated into many languages.
Alternative Details

---

Bandcamp mission is to create the best possible service platform for the musicians and labels where they can earn from their music and it is a platform for the users who love exploring new genres and new variety of music by different musicians. Bandcamp believes that every culture has its own type of music. They put the artist first and automatically music loves follow. When the user buys something on Bandcamp, whether it's digital music, vinyl, or a t-shirt, ticket or cassette, 80-85% of your money goes to the artist, and we payout daily. The remainder goes to payment processor fees and Bandcamp's revenue share, which is 10-15% on digital items, and 10% on physical goods. Brandcamp is founded in 2007 and has been profitable since 2012.
Alternative Details

---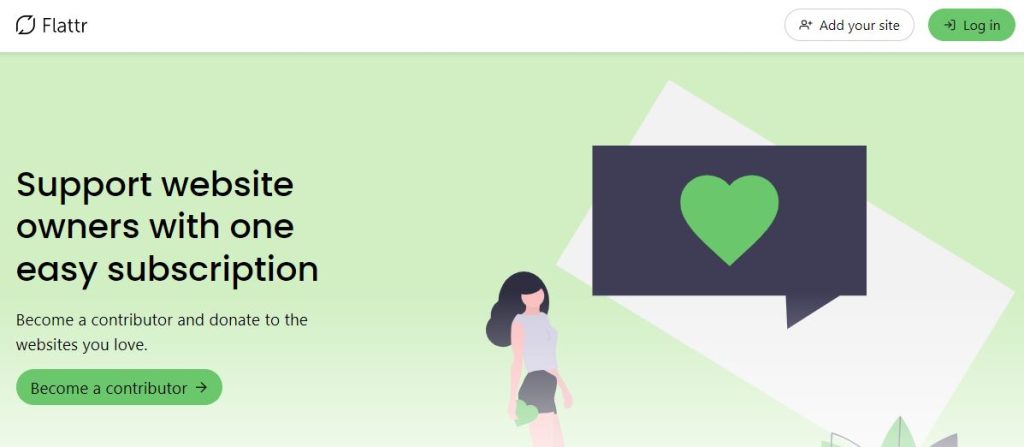 Flattr exists as they believe in a better internet. They believe in the creativity of the internet and people who are artists, writers, musicians, craftsperson, video maker, storyteller, teacher, photographers, cook, guides, Gurus, they all do a lot for their loves and they should be rewarded for what they do. Flattr AB is a full subsidiary of eyeo GmbH, the company behind the world's most popular open-source browser extension, Adblock Plus. eyeo believes in giving people control over their browsing experience and creating sustainable revenue for creators. Just by clicking one more button doesn't add to your fee, it just divides the fee between more people. Flatter tries to encourage people to share. Not just the piece of content but also some money to support the people who create them
Alternative Details

---

The fast, friendly and free way for fans to support the content with just the price off the Ko-fi. Ko-fi is a fast, friendly way to ask the fans to support the work of the artists for the price of coffee. The received fee was given 100% to the artists without charging any sort of platform fee or any sort of other deductions. Artists receive their payment directly to their PayPal or on their stripe account. The artists get paid directly to their accounts even if only one user pays and subscribes. Upload of photo gallery or video can be done by the artist with their best work on the Ko-fi. Artists subscribers and followers will automatically get the notification when the artist uploads any file or music or video.
Alternative Details

---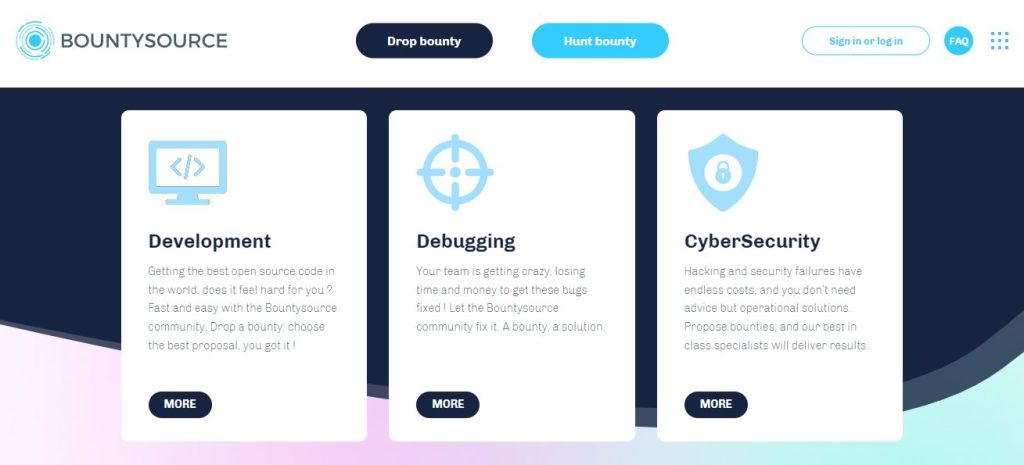 Bountysource is the funding platform for open-source software. Users can improve the open-source projects they love by creating/collecting bounties and pledging to fundraisers. A bounty is a cash reward offered for development. In the case of Bountysource, this ties directly to an open issue in the system. If anyone posts a bounty over the platform the issue is monitored until it's in a fixed/resolved state. After the issue is resolved, the developer who solved the issue can come to Bountysource to claim the bounty. If you're a Backer, we'll keep you informed (via email) of any Claim activity on the issue. When a bounty claim is submitted by a developer, the claim is put into a two week verification period. Backers are notified by email and can then accept or reject the claim. If all Backers vote to accept the claim, it is processed immediately and the developer is awarded the bounty. If any Backer fails to accept the claim, it remains in the two week waiting period. If any Backer has an issue with the claim, they can reject it. Claims cannot be paid out until the dispute is resolved and the rejected status is lifted.
Alternative Details

---

Open Collective is a platform where communities can collect and disburse money transparently, to sustain and grow their projects. Open collective enables communities to have economic power, so they can sustain themselves and have a larger impact in the world. The platform provides tools for legal entities to fiscally sponsor Collectives under their umbrella, empowering people to create associations without friction. It's like an API between the legacy world of banks and taxes and the emerging future of digitally powered distributed collaborations. The open collective is a US-based C corp. registered in Delaware. We also have created other separate entities to act as Fiscal Hosts, like the Open Collective Foundation 501c3, for charitable Open Collectives in the US and the Open Source Collective 501c6 for open source projects around the world.
Alternative Details

---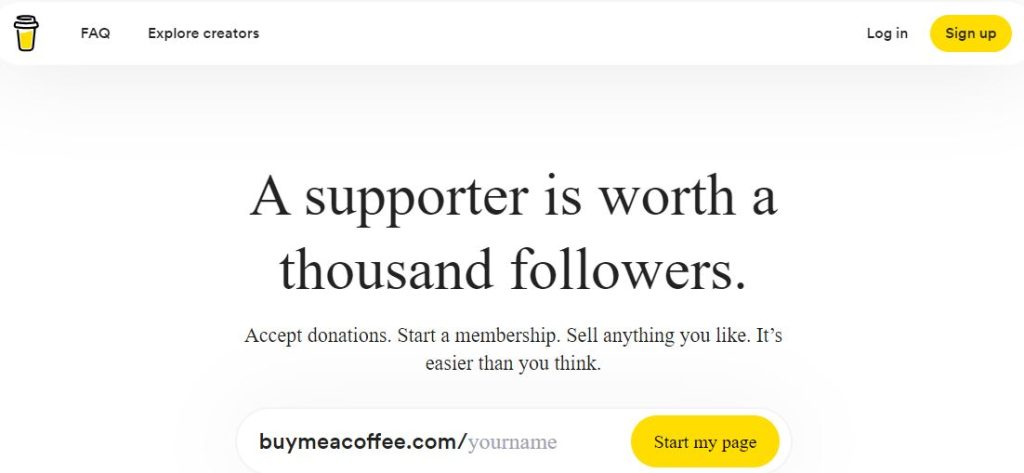 It is a fast and secure way to make donations to artists, developers, Bloggers, other artists. It is a free platform to receive donations in a friendly manner. It provides features like: it allows multiple payout options like PayPal and stripe(which is a direct bank transfer). It is a modern-day creative platform loved by +100k subscribers. It also provides one-click payment for the artists. Every user has their own Buy Me A Coffee page where they can share their goals and get comments as well. It also provides WordPress plugins widgets and stats. It also provides the personalized "Thank you" message for their supporters and followers. It provides a lot of payment options few of them are: Bitcoin, Android pay, Apple pay
Alternative Details

---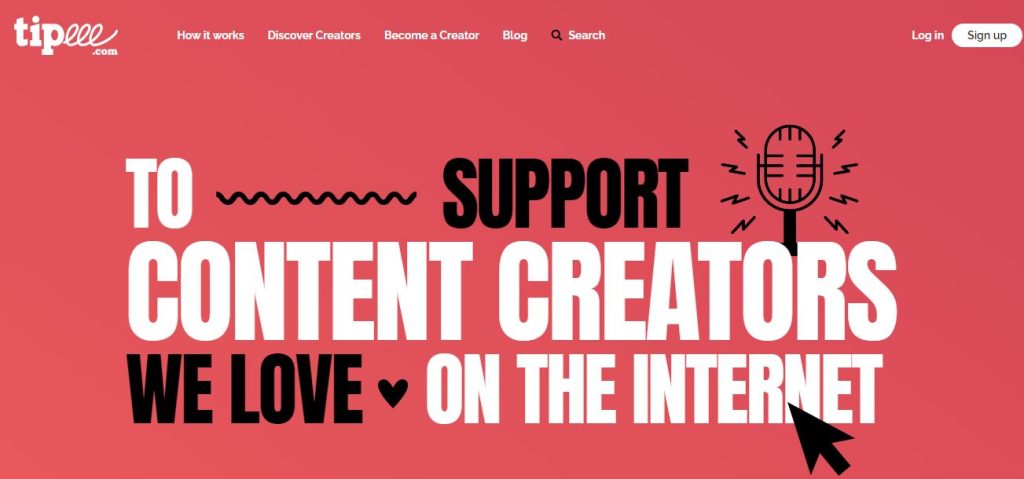 Tipeee is a free, user-friendly platform. Tipeee is a participative financing platform devoted to Internet content creators. It allows them to receive "Tips" (monetary "thank-yous") from their communities and followers throughout the year. The "Tip" is voluntary and optional support. It allows you to help creators and tell them that you love their work. Tipeee helps creative people to concentrate on the work they are passionate about, without depending solely on advertising revenues, meaning they remain in control of the quality and pace of their content. On tipeee, every artist or creator has their own page which is a face of them over which they showcase their art to their communities and also to their subscribers. Creators can also share rewards with one another(if they wish so). Tipeee have a wide range of categories for the artists to choose from it has, podcasters, illustrators, athletes, magician, video maker, musicians, coplayers, streamers, and many more. Tipeee applies the commission of around 8% including the tax on the paid amount.
Alternative Details

---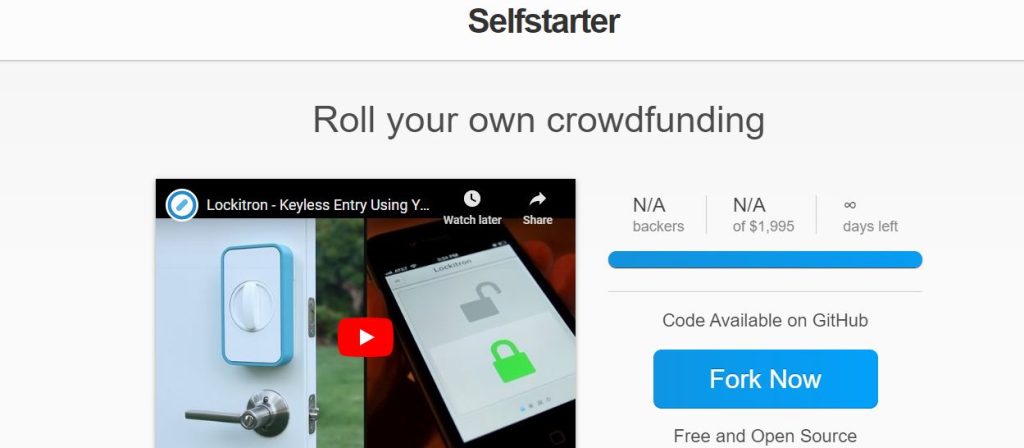 Selftstarter is a starting point for the users to build their own solution. It is set up to collect reservations using Amazon Payments, but one can choose their own payment method/provider too. It is made very simple, and users can customize it as well according to their needs and can manage it accordingly. Self-starter makes it easy to roll the own crowdfunding site.
Alternative Details

---