UltraViewer is software that helps you to remote control your client's computer to support them like you're sitting in front of the screen. So, this is one of the best parts and you can use it that way by simply remote controlling your client's PC. For example, your parent needs your help to repair software on their PC, you can remote control to help them. To send file please do the following this instruction: While remote controlling your partner computer, press F1 to toggle the chat box on. – Drag the file you want to send to the chat box and send a message. – On your partner computer, click on the Save button to save the file if you have multiple files or folders. The installation is very simple, just download, run the Setup and install normally like any other software. If you want to uninstall the software, just go to Start -> Control Panel -> Add or Remove Programs and choose to uninstall the software named UltraViewer.
If UltraViewer is not working as usual at this time or maybe it's down permanently then here are some of the best alternatives to UltraViewer which you will surely enjoy.
So, We have got your back! if you want to try some other Programs like UltraViewer then here are some of the best UltraViewer alternatives that you should try:
---
Best Alternatives To UltraViewer
---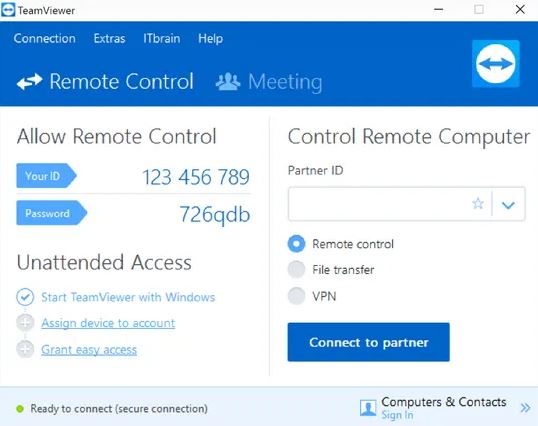 With the help of team viewer, you can create a connection with any PC or server that too within just a few seconds. You can remote control the PC of your partner. And it is like you are sitting right in front of it. There are new features such as VoIP, webcam and many other application selections is likely to give you an even better, easier and desktop sharing experience which is faster. It has many good features, some of its features are as follows - It enables you to do what you want without any hassle and without any worries. Private data, private conversations, and private meetings stay that way. Support, assist, interact, and collaborate with people. It exchanges information. It has access to and uses technology. One tool makes it possible to work as if you were all in the same room without travel time and expenses. Solve issues remotely or bring customers and colleagues together without complex steps or onerous prep time.
Alternative Details

---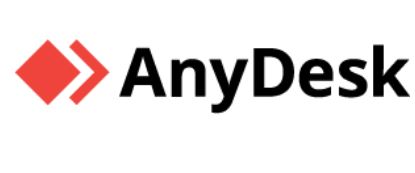 AnyDesk is remote desktop software that is free for personal use. Business use requires a subscription. AnyDesk itself is secure, trusted and used by millions of people and 15,000 companies in 165 countries. In addition, AnyDesk uses banking-standard TLS 1.2 technology to protect users' computers, as well as RSA 2048 asymmetric key exchange encryption to verify every connection. AnyDesk offers many useful features such as the ability to use the program for unattended access to your remote computer, to cut and paste using the clipboard, to transfer files, to reboot the remote computer in safe mode, etc. AnyDesk is a secure software for remote connections, using banking-level security and encryption protocols. This isn't a warning about using remote desktop services, such as AnyDesk, but about the fact that users should not be lured into sharing access codes with people, they don't know. File Manager and File Transfer. AnyDesk provides Copy & Paste synced clipboard for all platforms to perform file transfer operations. Both hotkey (CTRL+C, CTRL+V) and context menu operation (right-click and copy files) are applicable. Linux and Android up to this point can only handle incoming file transfer requests.
Alternative Details

---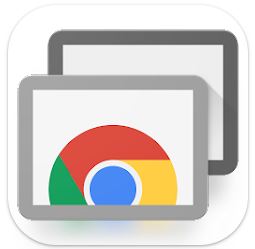 It is one kind of remote support in chrome. It is a kind of remote desktop software tool which is developed by Google. The best part about this is that it allows the user to control remotely another computer through a proprietary protocol developed by Google unofficially called "Chromoting". Making your computer accessible remotely might sound like a security risk, but it's actually quite safe. Chrome Remote Desktop is protected by a PIN when used among your own computers and is dependent on an Access Code when opening up your computer to another user. Google has launched a beta of a new web-based Chrome Remote Desktop. Remote support is also still included. You can try out the new Chrome Remote Desktop. The old version is still available on the Chrome Web Store, but it will probably be removed once the web app leaves beta. Like any of the other proprietary remote desktop services, Chrome Remote Desktop comes free of charge. You don't have to spend a single dollar on a commercial tool if your needs are limited to accessing your own devices on-the-go or remoting into a friend's computer.
Alternative Details

---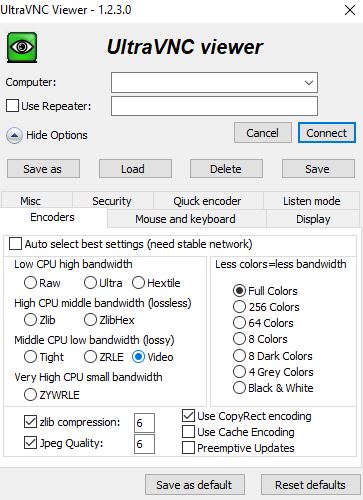 UltraVNC is powerful, easy to use and free software that can display the screen of another computer (via internet or network) on your own screen. UltraVNC is safe when configured properly and used over the internet. Use non-traditional ports for connection - Use the DSM Plugin, possibly set up SSH through open SSH on the computer you wish to connect to and use a secure shell to communicate with the DSM. If using UltraVNC over the Internet-Double click on the UltraVNC viewer icon, either from your desktop or the Start menu, to launch the program. Type the IP address or hostname for the UltraVNC server in the Host Name box. Click one of the radio buttons under "Quick Options" to specify a connection speed. UltraVNC bears a strong resemblance to Real VNC Free Edition. However, in addition to remote control, it adds various features, such as an encryption plugin to secure the client/server connection. The software is free and distributed under the terms of the GNU General Public License.
Alternative Details

---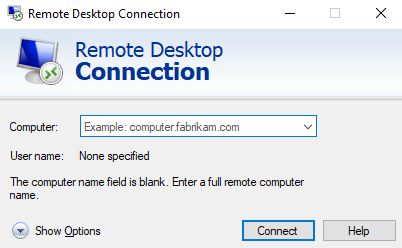 It allows a user to remotely log into a networked computer. Remote Desktop Connection is a technology that allows you to sit at a computer sometimes called the client computer and connects to a remote computer sometimes called the host computer in a different location. A remote desktop connection allows you to use virtually any computer or device in order to connect to another computer. Once you connect remotely, you get access to all the resources on the computer you've connected to. To connect to a remote computer, that computer must be turned on, it must have a network connection, Remote Desktop must be enabled, you must have network access to the remote computer (this could be through the Internet), and you must have permission to connect. Remote Desktop can be secured using SSL/TLS in Windows Vista, Windows 7, and Windows Server 2003/2008. While Remote Desktop is more secure than remote administration tools such as VNC that do not encrypt the entire session, any time Administrator access to a system is granted remotely there are risks.
Alternative Details

---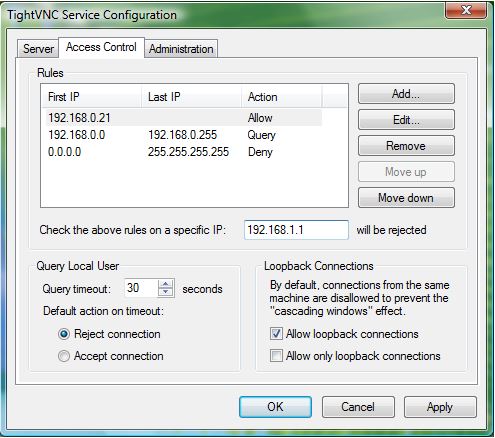 TightVNC is a free remote control software package. With Tight VNC, you can see the desktop of a remote machine and control it with your local mouse and keyboard, just like you would do it sitting in the front of that computer. Tight VNC is licensed under the GNU General Public License version 2. Although Tight VNC encrypts VNC passwords sent over the net, the rest of the traffic is sent as-is, unencrypted (for password encryption, VNC uses a DES-encrypted challenge-response scheme, where the password is limited by 8 characters, and the effective DES key length is 56 bits). To run the viewer, choose Start->Programs->Tight VNC->Tight VNC Viewer. You will see a window allowing choosing which server to connect to. After entering the hostname or its IP address (and optionally a display number), choose "Connect". Tight VNC Server contains a small web server as well. This server listens for incoming HTTP connections on 5800 port (by default).
Alternative Details

---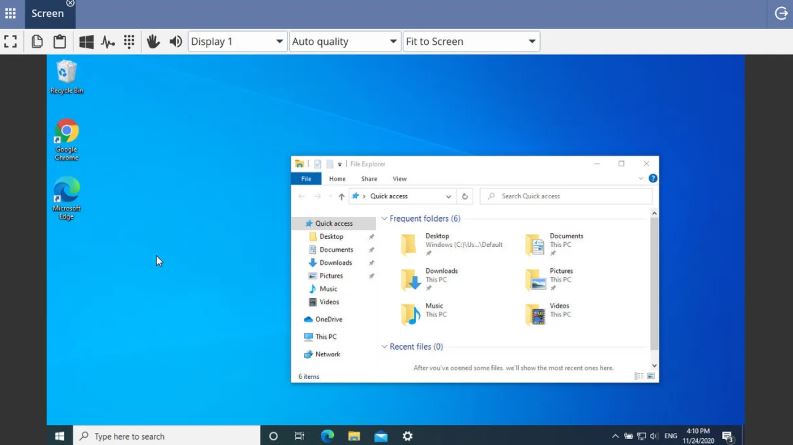 DWService - Remote Access, Remote Support, Service Desk, offers a service that allows access to remote systems using a standard web browser. The client is open source (the server is not). Suppose you are anywhere in the world having the need to use your home computer, you can start the web browser from any device connect to DWService website and immediately gain control of the computer. The connection to a remote system requires that an agent is running on it. The agent is generally installed permanently so that the connection is always available. Alternatively, you can choose to run the agent occasionally. The choice between the two modes is done in the installation phase. This software is free and open-source. DWService uses the https protocol adopted also by email providers, banks, etc. Since this service is free, you can use it from any location. It is a hassle-free and barrier-free service thanks to the sponsorship and donations.
Alternative Details

---
LogMeIn gives you fast, easy remote access to your PC or Mac from your browser, desktop, and mobile devices. It comprises of premium features like file transfer, file sharing, and remote printing help you stay connected and productive wherever you go. Control your computers on the go with LogMeIn for IOS and Android: it includes remote application access and file management. It works with an account subscription of LogMeIn Pro on your computer, which also includes access from your desktop and web browser, so everything you need is always at your fingertips. Access your files, data, and applications and get stuff done. Access your home and work computers on the go. Control your Mac or PC as if you're sitting right in front of it. Get to your computer files and edit then from your device. Remotely run any application on your computer. So, you can use LogMeln as it has nice features and also you can easily access your PC.
Alternative Details

---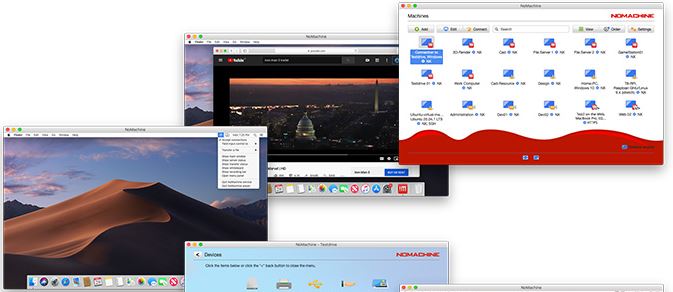 NoMachine NX is an enterprise-class solution for secure remote access, desktop virtualization, and hosted desktop deployment built around the self-designed and self-developed NX suite of components. Thanks to its outstanding compression, session resilience, and resource management and its integration with the powerful audio, printing, and resource sharing capabilities of the UNIX world, NX makes it possible to run any graphical application on any operating system across any network connection.NX is SSH encrypted, has random cookie generation, and is compressed for speed. Free version is available to everyone, and enterprise and server editions are available at cost. NoMachine is a free, cross-platform, serverless remote desktop tool that lets you set up a remote desktop server on your computer using the NX video protocol. The client can be used to connect to the server from anywhere in the world.
Alternative Details

---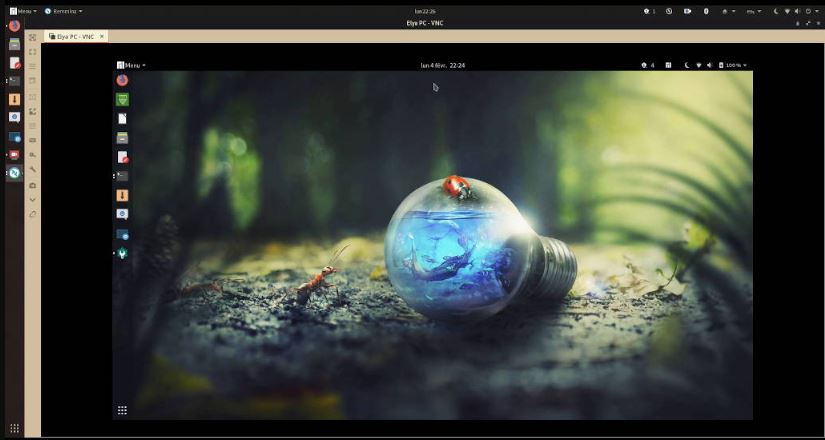 It is a remote desktop client for Linux. Using it is very easy - Follow the following steps - Open "Search your computer" and type in "remmina": Click on the Remmina Remote Desktop Client icon to start the application. Select 'VNC' as protocol and enter the IP address or hostname of the desktop PC that you like to connect to. A window opens where you must type in the password for the remote desktop. They are encrypted using 3DES with a 256 bit randomly generated key. Keep your key secure. If you use kwallet, gnome-keyring or a similar solution, your password will be managed automatically by lib secret, which is superior to the aforementioned native Remmina encryption. Using remmina (1.2. 0), it's an option in the gui: Edit your connection. Check on the 'Share folder' and select one folder in the host. Create a Remmina RDP connection to the windows machine. Edit that connection. Under the Basic tab choose a share folder. In the Advanced tab, change the sound to local. Save it and connect.
Alternative Details

---